Backyard 60th Birthday Party Ideas To Get The Occasion Swinging
Are you or someone you know about to celebrate the big 6-0? This milestone event deserves a proper celebration and what better way than with a backyard bash alongside your loved ones? Well, we've been there and done that so we'll provide some fun and unique ideas for making your 60th birthday party an unforgettable experience for everyone involved.
Choose an Ideal Theme
To start things off, select a theme that speaks to your personality traits and passions. Your options are endless here – go for something like a Hawaiian Luau or opt for a rustic country feel instead. Once you've chosen your theme, create decorations, meals, and entertainment that all match in together accordingly.
Send Out Invites Early
The next step is sending out invitations; once you have decided on the perfect theme of course. You can make personalized invites reflecting the tone of your party or use common online invitation platforms to create them pragmatically. Ensure all necessary information such as date, time, and location is included therein.
Deck Out Your Backyard
Decorations play a vital part in setting any mood at parties; they help anyone associate easily with not only moments but also feelings that were had as well during it. Getting creative while led by colourful balloons and dim streamers will add flair fitting perfectly notably well with posters remembering how age brings wisdom that still matters at any given moment!
Plan The Menu
When it comes to food and drinks, there are many options to choose from. Consider hiring a caterer to take the stress out of meal preparation or create a DIY buffet with easy-to-prepare dishes. Finger foods, such as appetizers and snacks, are always a crowd-pleaser. Don't forget to provide non-alcoholic options for guests who don't drink.
Entertainment Options
Entertainment is a crucial part of any party, and your backyard 60th birthday party is no exception. There are many options to consider, from hiring a DJ to creating a playlist of your favourite songs. You can even set up games, such as cornhole or horseshoes, to provide entertainment for your guests. A photo booth with props can also be a fun addition to your celebration.
Add Personal Touches
Adding personal touches to your party can make it extra special. Consider creating a memory board with pictures of your life, or setting up a guestbook for guests to write messages and well wishes. You can incorporate your favourite hobbies or interests into the decorations or menu to add a personal touch.
Lighting Is Important
Lighting is key when it comes to creating a warm and inviting atmosphere for your backyard 60th birthday party. Consider using string lights, lanterns, or candles to create a magical ambience. Be sure to test the lighting beforehand to ensure it's safe and effective.
Seating Arrangments
Seating is another essential aspect of your backyard 60th birthday party. You can set up tables and chairs for guests to sit and eat, or create a lounge area with comfortable seating. Adding pillows and blankets can also make the seating area cosy and inviting.
Get The Desserts Right
No birthday party is complete without desserts. A dessert table with cakes and cupcakes is always a hit, or create a DIY dessert station where guests can make their own treats.
Party Favours
Don't forget about gifts and party favours to show appreciation for your guests. Personalizing gifts or creating DIY gift baskets can leave a lasting impression.
Don't Forget Safety
While planning a fun and memorable party is essential, safety should always be the top priority. Make sure to have a first aid kit on hand and check that electrical cords and lighting fixtures are secure. A relaxing backyard party can easily turn into a disaster if safety isn't taken seriously.
Plan For Unpredictable Weather
The weather can be unpredictable, so it's crucial to have a weather plan in place in case of rain, wind, or heat. Rent tents or umbrellas to provide shelter for guests or move the party indoors if necessary.
Photographs
Don't forget about a professional photographer to capture all the special moments.
Planning For Kids
If kids are attending, keep them entertained with activities such as a kids' table or hiring a babysitter.
Schedule
Planning a timeline for the party is also helpful to keep everything on schedule and avoids any missed important moments.
Final Thoughts
The key to a successful backyard birthday party is to make it personalized, unique, and unforgettable. DIY decorations and personalized gifts help create the perfect ambience.
But don't let a small backyard hold you back from having the party of your dreams. Space-saving furniture, cozy seating areas, and creative decorations can make the most of any space.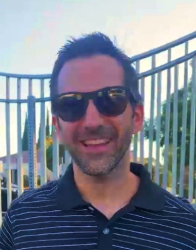 Latest posts by Paul West
(see all)