Unleash Your Backyard Charm: 40 DIY Rustic Backyard Ideas to Inspire You
Looking to transform your backyard into a rustic retreat? You're in the right place! We've assembled a list of 40 unique and inspiring DIY rustic backyard ideas just for you.
From cozy fire pits to charming garden planters, these ideas will help you create an outdoor oasis that's not just beautiful, but also a reflection of your personal style.
So, whether you're a seasoned DIYer or a gardening newbie, get ready to roll up your sleeves and let your creativity shine. Dive in and let's start crafting your dream rustic backyard together!
Key Takeaways
Rustic decor is less formal, making it ideal for an outdoor space like a porch or backyard.
Consider how your backyard is used and plan carefully before planting or hardscaping.
A log home is the epitome of country style that makes a beautiful backdrop for rustic porch decor and rustic gardens.
Container gardening is ideal for people new to gardening, experimenting with new species, and locales where water or rich soil is at a premium.
Elegant Entryways
Country Cottage Inspired Entryway: Welcome your guests with a charming entryway that exudes rustic elegance. The country cottage style is all about warmth, charm, and a sense of nostalgia.
Wooden Entryway Shelf: Add a functional yet stylish storage solution to your entryway. A wooden shelf not only provides a place to store your items but also adds a rustic charm to the space.
Delightful Decor
Farmhouse Work Bench: Bring a rustic touch to your workspace with a chunky baluster leg farmhouse workbench. It's not just functional, but also adds a charming aesthetic.
Chic Flower Trough Centerpiece: Add a blooming beauty to your table with a shabby chic flower trough centerpiece. It's a perfect way to incorporate nature into your decor.
Birdhouse Assemblage and Barnwood Door: Pay homage to country life with a birdhouse assemblage and barnwood door. It's a unique and charming addition to any rustic home.
Open Shelving: Display your treasures with style on open shelving. It's a great way to showcase your favorite items while adding a rustic touch to your space.
Shelving Hooks: Combine practicality with rustic charm with shelving hooks. They're perfect for hanging coats, hats, or any other items you need to keep handy.
Natural Nuances
Neutral Palette: Create a calming and rustic vibe in your backyard with a neutral color palette. Subtle shades of beige, cream, and brown can make any space feel warm and inviting.
Natural Materials: Embrace the beauty of nature in your decor by using natural materials. Wood, stone, and other natural elements can add a rustic and earthy feel to your home.
Centerpiece Charm
Rock and Wood Centerpiece: Add a touch of rustic elegance to your dining table with a rock and wood centerpiece. It's a unique and creative way to bring out nature in your backyard.
Backyard Beauties
Antique Decor: Decorate an outdoor room or space with found objects, antiques, or old-timey memorabilia for a cozy and rustic feel. Each piece tells a story and adds a unique charm.
Vintage Straw Hats Decor: Add a quirky touch to your outdoor room wall with vintage straw hats. They're not just for wearing – they make great wall decor too!
Kitchen Comforts
Wooden Kitchen Island: Make your outdoor cooking area the heart of your backyard with a rustic wooden island. It's a functional piece that also adds a warm and inviting feel.
Open Wooden Shelves: Display your kitchenware with pride on open wooden shelves. They add a rustic charm and make everything easily accessible.
Wooden Dining Table: Enjoy outdoor family meals on a rustic wooden dining table. It's a place where memories are made and stories are shared.
Vintage Wooden Chairs: Sit back and relax in comfort with vintage wooden chairs. They add a touch of time-honored charm to any kitchen.
Wooden Utensils: Cook your favorite meals with wooden utensils. They're not just practical, they also add a rustic charm to your kitchen.
Living Room Luxuries
Wooden Coffee Table: Make your outdoor relaxation area feel cozy and inviting with a rustic wooden coffee table. It's a perfect place to display your favorite books or a beautiful vase of flowers.
Wooden Side Tables: Combine practicality with rustic style with wooden side tables. They're perfect for holding a cup of tea, a good book, or a beautiful lamp.
Wooden Picture Frames: Frame your favorite memories with rustic wooden picture frames. They add a personal and charming touch to your outdoor room or space.
Wooden TV Stand: Enjoy your favorite shows and movies with a rustic twist with an outdoor wooden TV stand. It's a stylish and practical addition to any backyard covered relaxation space or room.
Outdoor Oasis
Wooden Patio Furniture: Enjoy the great outdoors in style with rustic wooden patio furniture. It's a perfect way to relax and enjoy nature.
Wooden Garden Planters: Let your plants bloom with charm in wooden garden planters. They're a stylish and practical addition to any garden.
Wooden Garden Bench: Sit back and enjoy nature on a rustic wooden garden bench. It's a perfect place to relax and enjoy the beauty of your garden.
Wooden Birdhouse: Provide a rustic home for your feathered friends with a wooden birdhouse. It's a charming and practical addition to any garden.
Wooden Fence: Define your garden boundaries with a rustic wooden fence. It's a charming and practical addition to any outdoor space.
Wooden Garden Shed: Store your garden tools in style with a rustic wooden shed. It's a practical and charming addition to any garden.
Wooden Deck: Enjoy the great outdoors in style with a rustic wooden deck. It's a perfect place to relax and enjoy the beauty of nature.
Backyard Rustic Design Do's And Don't's
Do's:
Do Embrace Natural Materials: Rustic design is all about celebrating the beauty of nature. Use materials like wood, stone, and metal in their raw, unpolished forms to create features that blend seamlessly with the outdoor environment.
Do Incorporate Recycled Elements: One of the hallmarks of rustic design is the use of reclaimed or recycled materials. Old wooden barrels, pallets, or metal buckets can be transformed into unique planters, seating, or decorative elements.
Do Create a Cozy Atmosphere: Rustic design is synonymous with comfort and warmth. Incorporate elements like a fire pit, outdoor rugs, or string lights to create a cozy and inviting atmosphere.
Do Mix and Match: Don't be afraid to mix different materials and textures. A wooden bench with a metal frame, or a stone pathway lined with wooden logs, can add visual interest and depth to your backyard.
Do Plan for All Seasons: Your rustic backyard should be a space you can enjoy year-round. Consider features that can withstand different weather conditions, like a covered seating area or a sturdy gazebo.
Don'ts:
Don't Overdo It: While it's tempting to fill your backyard with various DIY rustic features, remember that sometimes less is more. Too many elements can make the space feel cluttered and overwhelming.
Don't Neglect Comfort: Rustic doesn't mean uncomfortable. Ensure your seating areas are comfortable with plenty of cushions and blankets for those cooler evenings.
Don't Forget About Maintenance: Natural materials can weather and age over time. Regular maintenance, like sealing wooden features or cleaning stone paths, will keep your backyard looking its best.
Don't Ignore Your Surroundings: Your backyard should feel like a natural extension of your home and the surrounding landscape. Choose features and materials that complement, rather than clash with, your home's architecture and the local flora and fauna.
Don't Be Afraid to DIY: Many rustic features can be DIY projects. Not only can this save you money, but it also allows you to create unique, personalized elements that reflect your style and personality.
DIY Rustic Backyard Ideas – Further Reading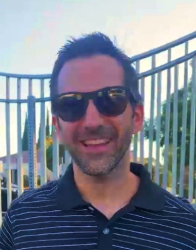 Latest posts by Paul West
(see all)