The Best Backyard Business Ideas For 2023 : Transform Your Space
The idea of running a business from the comfort of your own backyard has become an increasingly popular pursuit.
With the rise of remote work and side hustles, more people are recognizing the advantages of starting and operating a business right at home. Launching a backyard venture allows you to turn your own outdoor space into a hub of economic activity.
Backyard businesses come with a unique set of benefits that makes starting one an appealing option. You can minimize commute time and avoid the hassle of a brick-and-mortar location.
The proximity also allows you to easily test ideas before expanding your reach. Starting a backyard business enables you to blend professional pursuits with the tranquility of home. It's an excellent way to generate income while still enjoying flexibility and independence.
Top Backyard Business Ideas
Let's explore some of the top business ventures that can thrive in a home backyard environment.
Gardening and Plant-Based Businesses
Leveraging your green thumb is one of the most popular backyard business pursuits. Gardening ventures you can start include:
Gardener – Offer lawn care and gardening services to neighbors. Help maintain and beautify local yards. You can provide mowing, pruning, planting, weeding, and more. Start with basic equipment and grow your offerings over time.
Backyard Nursery – Grow vegetables, flowers, herbs or other plants to sell to garden centers, florists and at farmers markets. Focus on high-value specialty plants and build up inventory over the seasons.
Herb Grower – Cultivate and sell popular culinary herbs for use by restaurants, CSAs or individual buyers. Basil, cilantro, rosemary and mint are great starter herbs with steady demand.
Food Production and Sales
Several food-based business ideas also flourish when based at home. Consider:
Canner – Make jams, pickles, sauces and other canned goods to stock store shelves or sell online. Start small with a few signature products.
Farmer's Market Vendor – Grow or produce food items at home to sell at local markets and fairs. Expand your offerings as your business grows.
Services and Workshops
Offer your skills and knowledge right from home by starting:
Landscape Designer – Help clients plan and build garden landscapes and outdoor living spaces. Provide consultations and design visualizations.
Dog Trainer – Hold training classes or private lessons in your own backyard. Offer obedience, agility or specialty training tailored to owners' needs.
Yoga Instructor – Teach yoga classes outdoors in the peace of your backyard. Provide beginner-friendly sessions to build your clientele.
Creative Ventures
Let your creativity shine by launching:
Candle Maker – Develop and sell unique homemade candles. Experiment with scents and designs to build your brand.
T-Shirt Printer – Design and print custom apparel for local businesses and groups. Start with easy-to-use vinyl and heat transfer techniques.
Blogger – Create content around your passions and expertise to generate ad revenue. Share your journey launching a backyard business.
Benefits of Starting a Backyard Business
Beyond the specific business ideas, operating any venture from your backyard also comes with some key advantages:
Proximity and Convenience
Avoiding a daily commute to an office or storefront location saves time, money and energy. Working close to home allows you greater flexibility as well. You can be more responsive to customers and easily pivot operations.
Connection to Nature
Being surrounded by your own outdoor environment can be inspiring and uplifting. Unplugging from traditional office walls and scenery can enhance creativity and wellbeing. The peaceful setting helps minimize stress as well.
Cost-Efficiency
Launching a backyard business requires little upfront investment since you likely already own the necessary outdoor space and basic equipment. Overhead costs are low without rent or leasing costs to worry about. Start small and reinvest earnings back into your growth.
Flexibility
Your home-based location allows you to work around your own schedule and commitments. You control the pace and workload based on your own preferences and constraints. Ease into your venture and ramp up as you build experience.
Challenges and Considerations
While launching a backyard venture has many advantages, some factors to keep in mind include:
Zoning and Legal Restrictions
Make sure to research and comply with any local zoning, permits and licensing requirements that apply to home businesses in your area. This will vary by location and business type. Consult local government resources for guidance.
Seasonal Adaptations
Outdoor operations mean adapting to changing weather and seasons. This could require flexible offerings, schedules and storage solutions. For example, transition to more indoor activities in winter.
Space Limitations
Carefully assess how much space your business activities will require so as not to outgrow your own backyard. Prioritize portable and compact equipment when possible. Think vertically and utilize walls and fences too.
Neighbor Considerations
Be mindful of how your backyard operations could impact surrounding neighbors, such as through noise or traffic. Proactively address any concerns that arise.
Final Thoughts
Starting a backyard business allows you blend professional pursuits with the comforts of home. With creativity and proper planning, your own outdoor space could be the perfect launchpad for an exciting entrepreneurial journey. Just be sure to evaluate your local regulations, seasonal constraints, space limitations, and neighbor impact when bringing your backyard business dreams to life.
With this in-depth overview of top backyard business ideas, benefits, considerations, and tips, you have lots of information to start mapping out your own outdoor venture. Let your entrepreneurial spirit flourish – get growing!
Do's And Don't's To Remember When Considering Starting A Backyard Business
Do's:
Do Your Research: Understand the market demand for your services or products. Identify your target audience and build your business around their interests and needs.

Plan: A well-constructed business plan is your road map to success. Define your business goals, strategies, marketing plan, and financial projections.

Start Small: Begin with a lower scale operation, test your products or services, get feedback, and adjust your business model accordingly.

Invest in Quality: Whether it's products, services, or customer care; always aim for high quality. It's the key to create a loyal customer base and a strong reputation.

Get Proper Licensing and Insurance: Make sure your business adheres to all local regulations and zoning laws. Obtain the necessary permits and licenses, and don't forget to get insurance to cover possible liabilities.

Advertise: Use different marketing and promotional strategies to spread the word about your business. Social media, local newspapers, community bulletin boards, and websites can be effective tools.

Engage with Your Community: A local backyard business can thrive on community support. Attend local events, partner with other local businesses, and make your presence known in your community.
Don'ts:
Don't Neglect Your Personal Life: Starting a business can be time consuming, but it's crucial to balance work with personal life. Your mental and physical health matter.

Don't Ignore Customer Feedback: Listening to your customers is one of the best ways to improve your business. Constructive criticism is just that – constructive.

Don't Overextend Finances: Keep track of your expenses and revenues. Growing a business too quickly can lead to financial issues.

Don't Forget About Taxes: Running your own business means you have to handle your taxes appropriately. Consider hiring a tax professional to ensure everything is done correctly.

Don't Be Afraid of Failure: Every business will face challenges and setbacks. Don't get discouraged. Use these experiences as opportunities for growth and learning.
Remember, starting a business takes patience and persistence, but with passion and commitment, you're well on your way to making your backyard business dream come true.
FAQ
What are some profitable business ideas that can be started from your backyard in 2023?
There are numerous profitable backyard business ideas in 2023 that you can consider. Some popular options include starting a car detailing business, opening a nursery business, or even starting a carpentry business. These ventures can be operated from the convenience of your own backyard, allowing you to save on rental costs and enjoy the comfort of working from home.
Are there any specific business opportunities that can be explored by utilizing your backyard?
Yes, there are business opportunities that can be explored by starting a business from your backyard. You can set up a home business that revolves around your passions and skills. For example, if you have a green thumb, you can consider starting a backyard nursery or a landscaping business. Alternatively, you can offer services such as pet grooming or tutoring classes right in your own backyard, saving time and money on commuting.
What are some of the best business ideas to start in 2023?
When it comes to business ideas to start, the options are vast. In 2023, some of the most promising ideas include car detailing for busy individuals, starting a farmer's market stall with organic produce grown in your backyard, or even launching an online store for unique products. It's important to consider your skills, interests, and local market demand to choose the best business idea that suits your backyard setup.
How can I determine if a business idea is profitable?
Before starting any venture, it's crucial to evaluate its profitability. Conduct thorough market research to assess the demand for your chosen product or service. Look at your target audience, competition, and pricing to determine if there is a viable market for your business. Additionally, calculate your expenses, including initial investment, overhead costs, and marketing expenses, to ensure that your business from home will generate enough revenue to be profitable.
Further Reading
50 Small Businesses to Start in Your Backyard – A list of business ideas that can be started right in your backyard.
23 Backyard Business Ideas to Start in 2023  – A guide featuring profitable business ideas to launch from your backyard.
Backyard Business: Create a Small Cut Flower Farm – Aspiring flower farmers will find valuable tips on starting a cut flower business.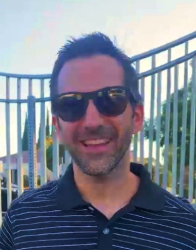 Latest posts by Paul West
(see all)