Best Backyard Cabana Ideas – The Most Popular Styles For Your Garden
Imagine stepping into your garden and being greeted by a beautiful, bespoke cabana that has been designed to meet your every need. You can almost feel the sun on your face and the cool breeze as you sip on a refreshing drink, surrounded by friends and family in the comfort of your own backyard.
With an ever-increasing desire for innovation, creating a stunning outdoor living space is now more achievable than ever – all it takes is some imagination and inspiration.
In this article, we'll explore some of the most exciting backyard cabana ideas that will transform your outdoor space into something truly special. From covered outdoor living areas perfect for those unpredictable British summer showers, to cosy relaxation spots where you can unwind after a long day at work, there's something for everyone.
So grab yourself a cuppa and get ready to be inspired by these brilliant ideas for turning your garden into an oasis of style and relaxation!
Introduction
Imagine lounging in your own personal oasis, grilling up a delicious meal, and watching your favourite movie under the stars – all from the comfort of your very own backyard retreat. With today's top-notch outdoor design ideas and clever landscaping strategies, creating an inviting backyard cabana has never been easier.
Picture yourself relaxing on plush cushions amidst a backdrop of lush greenery while the soothing sounds of water features set the mood for ultimate relaxation. From stylish garden décor to comfy backyard hammocks, you'll be spoilt for choice when it comes to selecting innovative elements that will transform your outdoor space into a luxurious haven.
There are countless benefits to having a sophisticated cabana in your garden. It adds value to your property, serves as an extension of your home's living space, and allows you to entertain guests or unwind with loved ones in style. By incorporating unique features such as covered outdoor living spaces, chic outdoor kitchens and bars, cosy fire pits or even an indulgent sauna area – you'll have endless opportunities for leisurely activities right at your doorstep!
So whether you're looking for inspiration on how to add flair to an existing patio or planning a complete backyard makeover from scratch, this comprehensive guide will provide you with all the tips and tricks necessary for creating a stunning alfresco oasis that reflects both British charm and modern luxury.
The Concept of a Backyard Cabana
You've probably dreamed of transforming your outdoor space into a private retreat, and a backyard cabana is the perfect way to make it happen. Not only do these stylish structures provide shelter from the elements, they also serve as an extension of your home where you can entertain guests, relax with family or simply enjoy some alone time.
To make your backyard oasis truly one-of-a-kind, consider incorporating eco-friendly materials, creative lighting solutions and unique furnishings that reflect your personal style. When designing your dream cabana, think outside the box by using environmentally friendly materials like reclaimed wood or recycled metal for its construction. Opt for energy-efficient LED lighting to illuminate your space in a visually appealing manner while reducing electricity consumption.
Don't forget to add personality with bespoke furniture pieces – whether it's an upcycled garden bench or a custom-made outdoor seating arrangement. By combining sustainability with innovative design, you'll create a backyard haven that's both stylish and responsible.
So go ahead and give your garden a touch of British flair with these brilliant cabana ideas!
Covered Outdoor Living Spaces
In today's outdoor design trends, covered living spaces are essential for maximizing comfort and functionality in your personal oasis. As you create your dream backyard cabana, consider a variety of styles to suit your taste and needs. From classic pergolas to modern pavilions, the possibilities are endless.
To help spark some inspiration, here are a few popular options:
A stylish gazebo with ample seating and plush outdoor furniture is perfect for entertaining or simply relaxing after a long day.
An elegant pergola adorned with fairy lights or lanterns can provide subtle lighting options that elevate the ambience of your space.
A sleek pavilion surrounded by lush plant arrangements creates an inviting atmosphere where you can unwind in style.
When designing your covered outdoor living space, it's important to select high-quality materials that will endure various weather conditions while maintaining their aesthetic appeal. Consider using durable wood like cedar or redwood, which naturally resists rot and insects. You should also think about incorporating elements such as retractable awnings or adjustable louvres so you can have more control over sunlight exposure.
To truly make your backyard cabana an extension of your home, invest in comfortable outdoor furniture that caters to both relaxation and entertainment. Include ample seating options like sofas or hammocks for lounging around during the day and accommodate guests at night effortlessly with a versatile dining area.
Don't forget to add ambient lighting options like string lights or lanterns to set the mood, and decorate with plant arrangements for that extra touch of greenery – after all, there's nothing quite like enjoying nature from the comfort of one's own backyard sanctuary!
Outdoor Kitchens
There's nothing quite like firing up the grill and cooking a delicious meal in your very own outdoor kitchen, surrounded by the beauty of your private oasis. With innovative ideas such as poolside dining areas, bespoke grilling stations, and alfresco cooking spaces designed for entertaining, you can transform your backyard cabana into an ultimate haven for foodies and guests alike.
Imagine being able to host lavish barbecues with friends or enjoy a romantic dinner under the stars, all while taking in the fresh air and stunning views that your garden has to offer.
When it comes to creating the perfect outdoor kitchen, don't be afraid to think outside the box. Why not incorporate a wood-fired pizza oven for those cosy nights in or install a sleek teppanyaki grill for some interactive culinary fun?
For true poolside dining indulgence, consider adding an elegant swim-up bar complete with submerged seating so that you can sip on cocktails without ever having to leave the water. And if space permits, why not dedicate an area solely for alfresco cooking demonstrations or even wine tasting sessions amidst your flourishing herb garden?
The possibilities are endless – just let your imagination run wild and watch as your dream outdoor kitchen becomes a reality.
Relaxation Spots
Creating a serene relaxation spot in your outdoor space can truly elevate the entire cabana experience, turning it into a personal oasis where you can unwind and recharge.
One brilliant idea to consider is incorporating Zen gardens into your design, as they not only add an element of tranquillity but also offer a visually appealing focal point.
Hammock havens are another fantastic addition; simply set up cosy hammocks or swinging chairs between trees or sturdy posts to create a peaceful retreat for you to kick back with your favourite book or enjoy an afternoon siesta.
Bring the soothing sounds of nature into your relaxation spot by adding water features such as fountains, ponds, or cascading waterfalls. The gentle flow of water will help calm your senses and provide a refreshing ambience in warm weather.
To make it even more inviting, consider adding colourful cushions in surrounding seating areas and soft fairy lights among plants for that extra touch of magic.
Combining these elements will create the perfect space for you to relax after a long day at work or entertain friends and family while enjoying the beauty of your garden oasis.
Fire Pits
After a long day, there's nothing quite like unwinding in your relaxation spot and enjoying the serenity of your backyard cabana. But what if we told you that you could elevate this experience even more?
That's right – by incorporating fire pits into your cabana design, you can create an atmosphere that is not only visually stunning but also provides warmth and comfort during those chillier evenings.
Modern fireplaces have come a long way from the traditional wood-burning pits we're used to. Eco-friendly options such as bio-ethanol or gas-powered fire pits are now available, providing both convenience and a smaller carbon footprint.
And with countless designs to choose from, you can easily find one that complements your backyard cabana's aesthetics – be it sleek and contemporary or rustic and charming.
Don't forget to explore various fire pit accessories as well; adding items like colourful glass rocks, decorative logs or even roasting marshmallow sticks will enhance the experience for both you and your guests.
So go ahead, light up the night with a stylish fire pit addition – after all, who wouldn't want their backyard retreat to be warm, inviting and absolutely mesmerising?
Outdoor Saunas
You'll absolutely love the idea of adding an outdoor sauna to your personal oasis, providing ultimate relaxation and numerous health benefits right at your fingertips. Sauna benefits include improved cardiovascular function, reduced stress levels, and even weight loss due to increased metabolism.
With a variety of sauna designs available, you can choose one that blends seamlessly into your backyard cabana and matches its overall aesthetic. Having a sauna in your own backyard means no more trekking to the gym or spa for that much-needed sweat session!
When it comes to installing an outdoor sauna, there are several factors to consider such as location, materials used for construction, and proper ventilation. You'll also want to ensure easy access from your home without compromising on privacy.
For seamless integration with your cabana design, opt for natural materials like wood or stone that complement the surrounding environment. Don't forget about regular sauna maintenance – keeping it clean is essential not only for hygiene but also for prolonging the life of your investment!
So go ahead and treat yourself – create an innovative backyard retreat complete with a luxurious outdoor sauna where you can truly unwind after a long day's work.
Outdoor Bars
An outdoor bar is an excellent addition to your personal oasis, offering a fun and stylish space for entertaining guests, enjoying refreshing beverages, and making lasting memories. With numerous design options available, you can create a unique and inviting atmosphere that caters to your personal tastes and enhances the overall experience of spending time in your backyard cabana.
Poolside cocktails: Set up your outdoor bar near the pool area for easy access to thirst-quenching drinks while lounging by the water. Incorporate features such as mini-fridges or beverage coolers to keep drinks chilled on those warm summer days.
Tiki themes: Bring a touch of tropical paradise to your backyard with a tiki-themed outdoor bar. Use bamboo accents, colourful decorations, and exotic cocktail recipes to transport yourself and your guests to an island getaway.
Bar seating options: Offer comfortable seating arrangements around your outdoor bar by incorporating various styles like high-top tables with stools, built-in benches, or even swinging chairs for a playful twist.
Remember that innovation is key — don't be afraid to think outside the box when designing your dream outdoor bar. From poolside cocktails served up on floating drink trays to customised tiki mugs with British slang phrases etched into them — let your imagination run wild! Your friends will be queueing up for an invite once they hear about what you've created at home.
So go ahead, dive into this exciting project and watch as it transforms not just your garden but also the way you socialise!
Outdoor TVs or Projectors
Now that you've got your outdoor bar sorted, it's time to consider another fantastic addition to your backyard cabana – an outdoor TV or projector.
Imagine hosting fabulous outdoor movie nights with friends and family right in the comfort of your own garden oasis.
The options here are endless; from cinema-style experiences with a projector, to having a sleek TV installation for casual viewing, you're sure to make your backyard the go-to spot for entertainment.
When it comes to deciding between a projector and a TV, consider factors such as available space, desired screen size and overall usage.
A projector may be more suitable if you want that authentic cinematic experience on a larger scale and ample space for setup. However, keep in mind that projectors require lower ambient light levels for optimal viewing quality.
On the other hand, TVs offer convenience and often better picture quality during daytime hours or in brighter environments.
Whichever option you choose, follow proper TV installation tips like ensuring weatherproofing measures are taken care of and selecting appropriate mounting brackets according to the weight of your device.
With these considerations in mind, you'll soon be basking in the glory of al fresco film screenings or catching up on your favourite shows whilst enjoying some fresh air!
Summary – Wrapping It All Up
You know, in my opinion, transforming your backyard into an inviting oasis is all about combining style with functionality. Keep the focus on relaxation and entertainment by incorporating poolside lounging areas, tropical landscaping elements, sustainable materials, and even some British charm thrown in.
By doing so, you'll create an innovative and engaging outdoor space where you can unwind with friends and family while increasing the value of your home at the same time.
So go on then – get cracking on creating that perfect backyard cabana!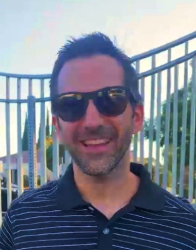 Latest posts by Paul West
(see all)