Our Guide to Setting Up and Hosting a Memorable Backyard Cocktail Party
The sun is shining, the weather is warm, and you're ready to celebrate the start of summer with a fun and festive backyard cocktail party. But hosting a successful outdoor event takes more than just mixing drinks – it requires thoughtful planning and preparation to create an atmosphere where your guests will truly enjoy themselves.
This comprehensive guide covers all the key elements needed to throw a backyard cocktail party that everyone will remember. From crafting signature cocktails to arranging comfortable seating, we'll explore expert tips to help you host an outdoor get-together with ease. Follow our advice to learn how to transform your backyard into a lively oasis filled with delicious libations, tasty bites, and good company.
Key Takeaways
Set the mood with inviting ambiance elements like lighting, music, and signature scents.
Craft unique cocktail and mocktail recipes suited to the season and your guests' tastes.
Decor and furniture arrangements should encourage guest mingling and relaxation.
Cater bites that are easy to eat standing up while balancing a drink.
Ensure adequate seating, shade, warmth, and restrooms to maximize comfort.
Promote responsible drinking and proactive safety measures for all guests.
Craft an Inviting Ambiance
The first step to hosting a memorable backyard cocktail party is setting the right mood through ambiance. When planning your party design and decor, think about creating an inviting atmosphere that encourages guests to mingle.
Use strings of lights, lanterns, and candles to add warmth and brightness to your outdoor space once the sun goes down. Scatter plush pillows and throws on your patio furniture so guests can get cozy as the night air chills. Consider using citronella candles and torches to help keep bugs at bay without harsh chemicals.
You'll also want to think about your outdoor sound system. Create playlists featuring popular hits and old classics to keep the energy light and fun. Position speakers strategically so the music fills the backyard without being overpowering.
And do not underestimate the power of a signature scent. Place fragrant flowers like gardenias and jasmine in bloom around your patio. Citrus fruits like oranges and lemons also add pleasant aroma when sliced. With the right sensory details, your backyard will feel like a chic outdoor lounge.
Craft Crowd-Pleasing Cocktails
Of course, the drinks you serve will be a highlight of your backyard bash. Take time to think about the types of cocktails your guests will enjoy sipping on as they socialize and nosh.
If you'll have wine aficionados in attendance, consider stocking several varieties of whites, reds, and rosés. Offer chilled glasses ready for pouring. For beer drinkers, have a selection of IPAs, lagers, and ales on ice.
And for elevated mixed drinks, craft two to three signature cocktails specifically for your get-together. Develop recipes inspired by the tastes of friends and the season. For summer, opt for light and refreshing flavors like cucumber-infused vodka, peach schnapps, or fruity white rum mixes.
You'll also want to have a few mocktail options for non-drinkers. Blend up fun combinations of fruit juices, herbs, ginger beer, and garnishes. Identify any dietary restrictions beforehand so selections are inclusive.
Having the right bar tools, glassware, and ice on hand will make mixing and serving a breeze. Set up a drink station with supplies and have the ingredients for your specialty cocktails pre-measured in pitchers.
Transform Your Space
To host a truly memorable backyard cocktail party, you need to creatively transform your outdoor area into an inviting space for guests to lounge, nibble, and imbibe.
Adorn your patio with stylish and comfortable seating arrangements. Mismatched vintage armchairs, couches, and poufs create an eclectic vibe. Dress up folding chairs with plush cushions. Illuminate seating areas with strings of Edison bulbs overhead and smart pathways with solar-powered stakes.
Use potted palms, flowers, and greenery to turn your yard into an outdoor oasis. Hang paper lanterns and decorate walls or fences with fabric pennants for a whimsical feel. Set up stations with snacks, supplies, and cocktail fixings to inspire roaming and mingling.
Some extra touches like a fire pit with Adirondack chairs or a bubbling water feature can help take your space to the next level. With the right furnishings and decor, your backyard will feel magical at night and provide a beautiful backdrop for connecting with friends.
Cater Tasty Bites
After cocktail hour, it's time to bring out the bites! Cocktail party nibbles should be easy to eat while standing and sipping. Opt for finger foods that can be prepped ahead in batches and simply finished or assembled before guests arrive.
Classic options like bruschetta, crostini, and deviled eggs are perfect starters. Skewers featuring olives, cheese cubes, and fresh fruits add color and variety. Hearty dips and spreads like hummus, baba ghanoush, and salsa served with crudites and pita chips encourage sampling.
For heartier appetizers, consider mini pulled pork or brisket sliders, shrimp cocktail in shot glasses, bacon-wrapped dates, or silver dollar pancakes topped with smoked salmon and dill cream cheese. Always provide cocktail napkins!
Don't forget to have an enticing sweet treat ready for the end of the night. Warm chocolate chip cookies or mini cupcakes are crowd-pleasing options. Set up a s'mores bar and gather around the fire pit for the perfect finale.
Maximize Guest Comfort
While delicious drinks and food are key, never underestimate the importance of comfort to create a memorable backyard cocktail party. After all, your guests came to relax and enjoy, not to sweat it out shivering or baking!
First, ensure you have adequate seating and arrangements suitable for the number of guests. Have a few backup chairs on hand just in case. Next, consider the weather forecast and prepare accordingly. A pop up tent or canopy provides shade and refuge if it's unusually hot and sunny. Have fans circulating if humidity will be high.
Conversely, if cooler temperatures or rain showers are expected, make sure you have heat lamps or a fire pit to warm up any shaded or damp areas. Provide extra blankets and even ponchos in a basket for comfort and convenience.
Also, remember that guests will need to use the restroom at some point. Keep your powder room clean, stocked, and smelling fresh. Added touches like flowers, candles, and hand towels make a difference. For larger groups, you may want to rent a portable restroom.
With some thoughtful preparations, you'll be ready to accommodate your guests smoothly rain or shine!
Prioritize Safety
While celebrating with cocktails and community is one of life's great joys, it's equally important to keep health and safety top of mind when hosting any social gathering involving alcohol. Here are some tips to ensure your backyard cocktail party promotes responsible revelry.
Plenty of non-alcoholic beverages like sodas, sparkling water, juices, and mocktails should be provided. Have snack options readily available to guests as they imbibe. Stop serving alcohol an hour before the party's end.
Check in with guests who appear overly intoxicated. Arrange Uber rides or invite them to stay in a spare room if concerned about their ability to get home safely. Remind the group to drink water and take it slow.
Make sure walkways and stairs have railings and are well-lit at night. Outdoor rugs should be secure and flat to avoid slips. Store grilling tools properly after use and supervise fire pits. Provide bike helmets for pedal-powered fun like backyard blenders.
By encouraging conscientious consumption and proactive safety, you help set clear expectations for all your guests to party responsibly.
Pulling It All Together
Hosting an outdoor cocktail party definitely takes some coordination, but the effort pays off tenfold in summer memories made. Start preparations by crafting specialty cocktails and mocktails suited to the season and your guests' tastes. Send inviting emails or mailed invitations 4-6 weeks prior to get it on calendars.
One week before the bash, start preparing any elements you can make ahead – sauces, dips, desserts etc. Create fun playlists and design your layout. Decorating the day before allows visualizing the layout flow. The day of, set up seating, lighting, barware, and food displays. Then change into your party outfit and welcome guests with a signature drink in hand!
With a well-stocked bar, comfortable seating, garden lighting, and delicious bites, your backyard bash will be one for the books. Following our tips for creating an inviting ambiance, tasty libations, and an entertainer's eye for comfort and safety, you're sure to host a memorable cocktail party loved by all. Cheers to that!
Frequently Asked Questions
What should I consider when planning a backyard cocktail party?
Carefully plan your ambiance, drinks menu, decor, seating, lighting, music, and food to craft an inviting atmosphere tailored to your guests. Ensure you accommodate comfort needs based on weather and provide adequate restrooms.
How far in advance should I plan a backyard cocktail party?
Send invitations 4-6 weeks in advance. Begin preparing any make-ahead elements 1 week prior. Set up decor, seating, and displays the day before so you can visualize the layout.
What are some signature summer cocktails I can serve?
Consider light, fruity cocktails featuring ingredients like cucumber, peach, citrus, white rum, gin, or sparkling wine. Offer a few mocktail options too.
What type of food should I serve at a cocktail party?
Opt for easy to eat finger foods and appetizers that can be prepped ahead. Skewers, bruschetta, dips, sliders, and shrimp cocktail are all good options. Have a sweet treat like cookies or cupcakes for the end.
How do I keep guests comfortable at an outdoor summer party?
Be prepared for weather with shade, fans, heaters, and blankets as needed. Have adequate, inviting seating and clean restrooms available. Check in on very intoxicated guests.
Garden Cocktail Party Planning: How To Throw The Perfect Bash – Learn how to throw an amazing garden cocktail party with these tips.
Host a Backyard Summer Camp Cocktail Soirée– A guide on how to host a backyard cocktail party with a summer camp theme.
33+ Dazzling Cocktail Party Ideas To Delight Your Guests – A curated list of cocktail party ideas ranging from food to virtual cocktail party ideas.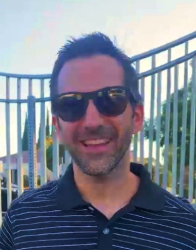 Latest posts by Paul West
(see all)