Sloped Backyard Decking Ideas for a Sloping Garden
Looking to maximize the potential of your sloped backyard and garden? A well-designed deck can provide the perfect inviting outdoor living space while also addressing the unique challenges of building on uneven ground. In this article, we'll explore creative backyard decking ideas to make the most of your hillside oasis.
First, let's briefly look at what makes sloped backyards special. With their uneven terrain, steep slopes pose issues like soil erosion, limited accessibility, and drainage problems. But they also offer fun opportunities to terrace and sculpt the landscape. The key is choosing backyard ideas suited for the slope – like multi-level decks, retaining walls, staircases, and tiered planting beds.
Now, let's explore sloped backyard decking ideas for a sloping garden in more detail so you can find the perfect design for your sloped garden!
Key Takeaways
Elevated and multi-level decks work beautifully on sloped sites, providing flat spaces tailored to your terrain.
Design details like cantilevered sections and winding stairs complement the slope's unique lines.
Built-in features like planters, fire pits, and water features enhance visual appeal.
Retaining walls, pathways, and tiered planting beds beautifully landscape the surrounding slope.
Budget DIY options like basic decks, gravel paths, and young plantings help cut costs.
Choosing the Right Deck Style
The type of deck you build depends on the slope, your goals, and your budget. Here are some top options:
Elevated Backyard Decks
For steep hillsides, an elevated deck perched above the slope provides a spacious, level surface while preserving the landscape below. You can make it simple for parties or add built-ins like planter boxes, benches, and an outdoor kitchen. Just follow building codes for safety railing height.
Multi-Level Hillside Decks
Terrace your decking to beautifully blend into a gently sloping site. Connect the levels with sturdy staircases and use the space underneath for storage. Mix materials like timber decking up top and a patio below.
Standing Backyard Decks
If space is limited, opt for a standing deck secured to the slope with piers or poles. Go for a simple square or rectangle, or get creative with the shape. Cantilevered sections work well on steep lots.
Backyard Patios and Pergolas
For a budget-friendly option, patios and pergolas provide covered outdoor living without major construction. Choose patios lined with flower beds or go for a pergola draped in vines.
Design Tips for Your Hillside
Now that you've selected a deck style, it's time to tailor the design details to your sloped site.
Complement the Architecture and Landscape
Design your elevated or multi-level deck to match your home's style, whether that's traditional, modern, or rustic. Repeat architectural details like trim patterns and materials. And echo the lines of your sloped landscape, curving deck borders and steps to flow with the terrain.
Enhance Visual Appeal
Cantilevered sections, winding stairs, and varied decking patterns add striking visual interest to a backyard deck. So do built-in benches, stone fire pits, and decorative planters. Lighting also helps draw the eye and extends use into the evening.
Maximize Outdoor Living Appeal
Make your new deck an entertaining hotspot with comfort and convenience. Add weather-resistant patio furnishings, an outdoor kitchen, and dining spaces. Extend your home's living space outside.
Consider Maintenance Needs
Use low-maintenance decking like composite boards to limit annual upkeep. And design with easy access for cleaning and repairs in mind. Leave space between decking boards for drainage and choose smooth-finished rails that shed water.
Observe Safety Guidelines
Inspect local building codes and have structural plans approved for multi-tiered decks. Allow proper railing heights and use slip-resistant decking. Light treads adequately and avoid overly steep stairs.
Fabulous Features to Include
Personalize your backyard deck with special built-ins and landscaping. Here are some fun ideas:
Comfy Seating Areas
Create cozy spots for lounging with weather-resistant sofas, chairs, coffee tables, and ottomans arranged in inviting seating vignettes. Add side tables for drinks and lamps for nighttime use.
Stunning Hillside Plantings
Line deck edges with gorgeous gardens or built-in planter boxes overflowing with flowering plants, vines, and grasses. For hillsides, choose native plants suited for slopes and partial sun.
Entertaining Extras
Add a stone fire pit, wet bar, grill station, pizza oven, or other features to make your deck party-ready. Outdoor kitchens with sinks, fridges, and cabinetry take it to the next level.
Water Features
The sound and sparkle of water instantly enhances ambiance. Try integrating bubbling waterfalls or fountains into multi-level decks. Or create a tranquil pond beneath wood decking.
Fun for Kids
Turn your new backyard deck into a playground. Add features like climbing walls, slides, swings, sandboxes, and splash pads. Just pick safe deck flooring.
Landscaping Ideas for Sloped Gardens
Now let's explore landscaping ideas to complement your new decking and beautify the rest of your sloped backyard or garden.
Terraced Retaining Walls
Scarce level ground is one of the biggest challenges with a sloped backyard. Retaining walls neatly terrace the landscape into flat sections suited for decking, patios, or lawn. Go for natural stone or mortared block.
Stunning Multi-Tiered Gardens
Embrace the slope and create a gorgeous terraced garden. Use retaining walls or timber borders to divide the hillside into planting tiers. Vary heights for visual interest. Choose plants suited to each tier's sunlight and drainage.
Meandering Garden Paths
Winding gravel or stone pathways are perfect for linking landscape features on a slope – guiding you from an upper patio to a lower flower garden for instance. Add guide rails for safety and night lighting.
Sloped Vegetable Beds
Build raised planting beds angled along the slope or carved right into the hillside. Tailor soil depth and irrigation to match sunlight and drainage conditions. Try growing hearty veggies like potatoes, carrots, and onions.
Striking Focal Points
Strategically placed water features, sculptures, large planting containers, and deck fire pits draw the eye, provide destinations, and break up expanses of slope.
Erosion Control Groundcover
Plant dense, hardy groundcover plants like sedum, vinca minor, and creeping phlox to control soil erosion on steep uncovered areas. Go for low-maintenance native varieties suited for partial sun.
Keep Costs Down with DIY Options
Don't let a slope scare you off from a backyard makeover. There are plenty of budget-friendly DIY options for decking and landscaping sloped gardens. Here are some top money-saving tips:
Build a basic standing timber deck yourself rather than a costly customized multi-level design.

Use pre-made decking kits and ranch-style fencing rather than custom builds.

Go for gravel pathways and mulched beds instead of poured concrete and stone.

Plant young nursery stock instead of spending on mature plants.

Buy end-of-season plants on clearance and grow them over for next year.

Propagate plants from cuttings of friends' plants or native species.

Check for free stone, timbers, and other materials on community swap sites.

Rent equipment for jobs like tilling and hauling rather than purchasing.
Final Thoughts
With creative vision and planning, your sloped backyard can be transformed into a beautiful oasis. Elevated and multi-level decks provide handy flat spaces tailored to the terrain. Complement with terraced retaining walls, winding paths, and hillside planting beds. Focus on low-maintenance materials and add fun features like fire pits, water elements, and play areas. For more inspiration, explore deck photos on houzz and other landscape sites. The possibilities are endless!
Before starting work, have structural plans reviewed and remember to observe local building codes. If tackling a major backyard makeover, consulting a professional landscape designer can help match the design to your home's architecture and avoid costly mistakes.
With the right sloped backyard decking and landscaping ideas, you can turn your hillside challenge into an absolute dream space you're able to enjoy with friends and family. Get ready to see your stunning new outdoor oasis take shape!
Sloped Backyard Decking Ideas for Sloping Garden FAQ
What is the best decking material for a sloped backyard?
Composite decking is a great choice for sloped sites because it is low maintenance and slip-resistant. The composite boards resist rot, splitting, and insect damage so they hold up well on uneven terrain. They won't warp or crack over time. Composite decking also comes in appealing wood-like grains to complement natural hillside landscapes.
How much does it cost to build a sloping deck?
The cost to build a sloped deck averages $25-$60 per square foot including labor and materials. A simple 10 x 12 foot standing deck costs around $3,000. A multi-level deck with stairs, railings and other features costs $15,000 to $25,000. Get quotes from several deck builders to compare pricing.
What plants work well in a sloping garden?
Some of the best plants for sloped gardens include catmint, daylilies, lavender, ornamental grasses, sedum, thyme, coreopsis, and flowering shrubs like hydrangea and bluebeard. Choose low-maintenance native plants suited to the sunlight, drainage and soil in each area.
How do you prevent erosion on a sloped backyard?
Use retaining walls, terracing, and dense erosion-control groundcover plants like sedum to hold soil on steep slopes. Also build pathways, stairs, and decks to direct foot traffic and minimize soil compaction. Apply mulch in bare areas. And use drip irrigation systems to avoid erosion from sprinklers.
What are some good backyard deck ideas for small angled yards?
Standing decks, simple square platforms, and narrow decks hugging the perimeter offer great options for small sloped yards. Add built-in benches and planters to maximize use of the space. An upper balcony or rooftop deck can add outdoor space without taking up precious yard real estate.
How can I make my sloping backyard more kid-friendly?
Add playful features to your new decking like slides, climbing walls, playhouses, and splash pads. Use soft flooring like rubber tiles. Build a sandbox or digging area into a gentle slope. Plant fragrant flowers and herbs within reach. String up backyard lights for nighttime use. Fence for safety.
Further Reading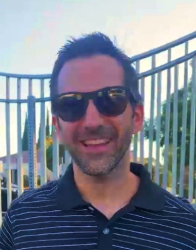 Latest posts by Paul West
(see all)