Sports Backyard Ideas: Transforming Your Yard into a Recreation Hub
Ok, so we all dream about having some form of home sports facility, indoors or outdoors right?  Whether you want to shoot hoops, kick a ball, or perfect your swing, a customized backyard recreation area makes it possible.
With the right backyard sports design, you can create your own field of dreams without breaking the bank!
Key Takeaways:
Customized sports yards provide convenience, family bonding, fitness and entertainment.
Popular amenities include basketball courts, sand volleyball pits, batting cages and putting greens.
Building a skateboard ramp, soccer pitch or pickleball court can maximize yard space.
Safety considerations like protective gear and lighting should be incorporated.
Luxury features like fire pits, outdoor kitchens and landscaping extend enjoyment.
Picturing Your Dream Backyard Sports Setup
As you gaze out over your yard, imagine the possibilities. Do you envision a lush putting green where you can chip and putt for hours? Or maybe a volleyball court where family and friends gather for friendly tournaments? Perhaps there's a baseball batting cage where your kids can sharpen their skills. The options are endless when it comes to sports backyard ideas!
Before deciding which amenities to add, think about the sports and activities your family loves. You'll also want to consider the space and layout of your yard. No problem if you only have a small patch of grass – many sports like bocce ball or a putting green don't require much room. Those with larger plots of land can dream bigger and add features like basketball courts or volleyball courts.
Here are some key benefits you'll enjoy from a customized sports yard:
Convenience – Easy access for spontaneous play and practice right at home
Family Bonding – Shared outdoor time enjoying friendly competition
Fitness – Being active playing sports you love
Entertainment – Hosting gatherings and parties with built-in recreation
Added Home Value – Increased desirability with versatile backyard amenities
Let your imagination run wild as you envision the ultimate backyard for sports and games!
Building Your Dream Backyard Basketball Court
For many families, the first choice is adding a basketball hoop and court. You may have fond memories growing up shooting hoops on the driveway basketball court. Now you can recreate that at-home hoops experience in your yard with your own basketball court.
When planning your backyard basketball setup, first decide if you want a full court or half court. A full basketball court measures 94 feet long by 50 feet wide, requiring substantial space. Most homes can only accommodate a half basketball court which is 47 feet by 50 feet.
Next, determine the basketball court surface material:
Asphalt or concrete – Provides a smooth and durable outdoor hardscape
Sport court tiles – Interlocking modular tiles create a consistent bounce
Artificial turf – Synthetic grass resists wear and provides decent traction
For smaller yards, go for a portable basketball hoop that you can wheel into place when needed. Or install an in-ground basketball hoop anchored in a permanent base for full-court games. Most importantly, look for adjustable basketball hoops that can adapt to different heights as your kids grow.
Adding authentic court markings takes your DIY project to the next level. Use a chalk liner to trace the key, baselines, and side out-of-bounds lines. Apply colorful long-lasting striping paint for sharp definition. Up your game even further with a shot clock and scoreboard!
Turn Your Backyard into a Basketball Oasis
Full vs half basketball court dimensions
Portable or in-ground adjustable basketball hoops
Hardscape, sport court tiles or turf surfaces
Basketball court markings and striping
Sand Volleyball Brings the Beach Party Home
Is a day at the beach one of your favorite ways to spend a summer day? Well now you can capture that carefree vibe at home by adding a sand volleyball court to your backyard.
Sturdy volleyball net systems can be purchased as portable or permanent fixtures. Make sure the volleyball net height is adjustable for both indoor and outdoor play. Anchor the poles securely, and tighten the net for optimal rebound of spikes and serves. Completing the boundaries with court lines will take your DIY project up a notch.
When prepping the underlying surface, excavate 8-12 inches down and fill with packed coarse sand. This provides both drainage and cushioning when diving for digs. Maintaining proper grading is crucial for quick drainage after summer thunderstorms.
To keep your sand volleyball court in tip-top shape, aerate monthly and refill lower areas as needed. Refinishing the entire court annually will keep the surface even and soft. Don't forget to install lights so family tournaments can continue after sunset!
Backyard Volleyball Courts Bring the Beach to You
Adjustable indoor/outdoor volleyball net systems
Sand or grass surface with proper drainage
Refinishing sand annually for optimum play
Practice Your Swing with Golf Backyard Amenities
Avid golfers know that consistent skills practice is key for improvement. But heading to the driving range after work isn't always feasible. Bring the driving range to your backyard by adding a few golf amenities.
Start by installing an artificial turf putting green. Map out an undulating terrain with hills, bumps, and plateaus. Next, add a chipping station with yardage markers and a landing zone of real or artificial turf. You can even include a sand bunker to practice your explosion shots.
For driving practice, safety comes first. A sturdy driving net with shock-absorbing borders will prevent wayward drives from damaging property. Position it in an open area with natural visibility of the target landing zone.
Giving your kids access to golf facilities at home fosters enjoyment of the sport from an early age. Don't forget amenities like shorts tees and cut-down clubs sized for youth. With the right practice setup, you'll have a backyard Masters champ in no time!
Golf Backyard Amenities Let You Practice at Home
Artificial putting greens with undulations
Chipping stations with bunkers
Driving nets for safety and visibility
Baseball Heaven with Batting Cages and Backstops
Calling all baseball lovers! Bring your own field of dreams to life by adding batting cages, pitching machines, and backstops to your backyard.
The best batting cages use strong galvanized steel frames and reinforced netting to withstand high-velocity pitch speeds. A protective L-screen helps shield the coach or pitching machine. Customize your batting cage with a quality pitching machine, home plate, base wedges, and warning track padding.
For fielding practice, start with staking out baselines at 60, 90, 120, and 127 feet. Then build a backstop about 20 feet wide and 12 feet high using sturdy posts and protective fencing. You can also create cutouts for removable base plugs to mimic the dimensions of a real baseball diamond.
With an afternoon in your own backyard baseball complex, your kids will sharpen their skills hitting, fielding, and throwing. Just make sure to establish safety rules, like wearing helmets and not crossing foul lines during live action. Play ball!
Baseball Batting Cages and Backstops Bring the Ballpark Home
Heavy-duty batting cages with pitching machines
Building a backstop with foul line boundaries
Safety first with helmets and base plugs
Transform Your Backyard into a Multi-Sport Field
Soccer and football gear lets you transform your open yard or unfinished lot into a multipurpose field.
Portable soccer goals with durable weather-resistant materials make perfect nets for compact areas. For larger fields, opt for permanent soccer goals secured by metal posts cemented deep into the ground. Make sure to allow adequate runoff room behind the goal. Adjustable-height football goal posts can adapt as kids get older.
When grading and prepping your surface, create a slight crown so water runs off evenly. Use corner flags or field paint to mark boundaries and lines. For a pro stadium look, chart out regulation soccer field dimensions.
Your home field advantage awaits – from World Cup watch parties to neighborhood pickup football games. Just don't forget to yell "Goal!" after an epic end zone dance.
Yard Space Becomes a Soccer Pitch and Football Field
Portable or permanent soccer goals and football goal posts
Grading and drainage for a playable surface
Yard lines and boundary markers
Backyard Skateboarding Begins with a Mini Ramp
For skaters, a homemade mini ramp can become their favorite hangout spot. Start by mapping out the basic framework and transition curves. Many DIY plans incorporate a 4-foot vertical section connected by entrance and exit ramps. Leave ample runway space for gaining speed.
Use smooth-sanded plywood supported by a sturdy base for the riding surface. This prevents wheels from catching. The coping along the platform edges should be steel or finished wood. Consider adding unique elements like boxes, rails, or quarter pipes.
Safety comes first when shredding ramps at home. Wearing helmets, knee pads, and elbow pads is a must. Maintain visibility for spectators, and check equipment regularly for wear. By taking precautions, the entire family can cheer on tricks and kickflips for years to come.
Build Your Own Backyard Skateboard Ramp
DIY mini ramp construction and design
Smooth plywood surface with proper coping
Safety gear for injury prevention
Pickleball – Fun for All Ages
You may not have heard of pickleball 10 years ago, but it's now one of the fastest-growing backyard sports. Combining elements of tennis, badminton and table tennis, pickleball is fun for all ages.
Transforming part of your yard into a pickleball court is fairly simple. Start by laying out the court boundaries, which are 20 x 44 feet for doubles play. Use chalk lines mapped 5 feet from the sidelines and 7 feet at the non-volley lines.
Next comes the pickleball net, centered at 36 inches high – slightly lower than a tennis net. Windscreens help prevent misdirected shots. Portable pickleball net systems allow playing on any flat surface.
The magic of pickleball is that the rules are easy to pick up, but there's lots of strategy involved. The paddle, whiffle ball, low nets, and smaller court scale make for fun volleys. Give it a try during this year's backyard Olympics!
Pickleball Courts Bring Fast-Paced Fun to Your Yard
Dimensions and lining for regulation pickleball courts
Pickleball net height and setup
Accessible rules for competitive back-and-forth play
Luxury Backyard Features for All-Weather Enjoyment
Once your sports facilities are up and running, it's time to add luxury features so your yard becomes an entertainment oasis.
Outdoor fire pits surrounded by comfy seating extend the seasons of backyard use. You can even add a covered outdoor kitchen with a built-in grill, bar area, and prep space.
Landscaping with trees, gardens and pathways provides natural beauty. To relax poolside, incorporate lounge chairs and umbrellas. Don't forget energy-efficient LED lighting so the family fun continues after dark.
For year-round comfort, add mister systems and heating lamps to combat the elements. Decorative fencing or stonework lends aesthetic appeal. The sounds of bubbling fountains make a tranquil backdrop on rest days.
With the right mix of sports courts, games, and luxury details, you'll have an enticing backyard paradise right at home. Get ready to make lifelong memories with your own field of dreams!
Luxury Touches Extend Backyard Enjoyment
Cozy fire pits and outdoor kitchens
Poolside lounging with patio furniture
Lighting, climate control, water features
Let the Backyard Games Begin!
It's time to turn your sports vision into a reality. Start by prioritizing your wish list based on interests, budget, and yard space.
Some elements like portable basketball hoops or putting greens are quick "weekend warrior" projects. Building amenities like skate ramps or volleyball courts may take more time. But with proper planning and hard work, you'll soon be enjoying your own backyard field of dreams.
Did you enjoy our suggestions for sports backyard ideas? Then grab a racket, lace up your cleats, and let the family-friendly competition begin. Your backyard sports oasis awaits – game on!
Further Reading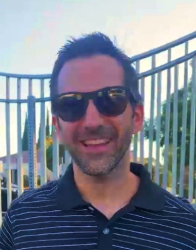 Latest posts by Paul West
(see all)