Create an Outdoor Haven with Stunning Backyard Resin Tables
Do you catch yourself dreaming of an outdoor living space where you can relax and entertain? Resin furniture makes it easy to create a gorgeous backyard oasis on a budget. Keep reading to learn everything you need to know about backyard resin tables – from styles and top brands to choosing the perfect pieces for your patio. With the right resin furnishings, you can say hello to backyard bliss!
Key Takeaways:
Resin table advantages include durability, weather resistance, easy maintenance, and affordable pricing.
Popular resin table styles include contemporary, wood-resin composite, industrial, portable and resin wicker.
Measure patio space carefully and match table style to your desired aesthetic when choosing resin pieces.
Look for quality construction and durable materials from top brands like Polywood, Trex, Harmonia Living, Modway and Christopher Knight.
Proper care like regular cleaning, inspecting hardware, and using furniture covers extends the life of resin tables.
An Introduction to Resin Patio Tables
Resin furniture has become a growing trend in backyards across America. These innovative pieces blend form and function for outdoor spaces. Made from a mixture of synthetic polymers and organic materials like wood fibers or stone dust, resin is formed into durable, weather-resistant patio furniture.
From sleek modern tables to handcrafted wood-resin looks, today's resin offers style flexibility. The material's affordability compared to wicker, aluminum, or teak makes it accessible too. Resin furniture resists cracking, peeling, and moisture damage so it holds up well outside. Low maintenance needs add to the appeal – a simple rinse keeps resin looking fresh.
With endless design options, resin tables can completely transform your outdoor area. Keep reading for an in-depth guide to choosing and caring for resin patio tables. We'll also cover popular styles, advantages, and top brands like Polywood and Trex. By the end, you'll have the know-how to create your perfect backyard paradise – all at an affordable price.
Discover the Many Styles of Resin Patio Tables
One of the great things about resin furniture is the vast range of styles available. Whether your taste runs modern, traditional, or anywhere in between, there's a resin table to match. Consider the following popular options when furnishing your outdoor space:
Contemporary Resin Tables
Contemporary resin tables feature sleek lines and statement shapes in eye-catching colors. Modular coffee, side and dining tables allow you to create tailored outdoor layouts. Stackable pieces make rearranging a breeze.
Made from durable polyresin, contemporary tables withstand weather fluctuations beautifully. Their bold hues also add vibrant pops of color to your yard.
Wood Resin Composite Tables
Wood resin composite blends the warmth of natural wood with resin's weatherproof durability. Epoxy resin seals and protects the wood while allowing its unique grain patterns to shine through.
Handcrafted wood resin tables highlight fine craftsmanship in each unique piece. The wood tones add natural texture and interest to your space.
Industrial Chic Resin Tables
For an urban vibe, industrial resin tables use materials like powder-coated steel, aluminum, or iron paired with resin. The thick resin tops make a bold statement.
Bar height tables work perfectly for entertaining and impersonating your favorite cafe. The metal base adds an eye-catching architectural element.
Portable Resin Tables
Portable resin tables provide lightweight convenience. Made of polyethylene resin which resists moisture, portable pieces fold up neatly for easy transport and storage.
Resin mesh allows rain drainage while also offering a smooth surface for dining and drinks outside. The portability makes these tables great for small patio spaces.
Why Choose Resin for Your Outdoor Tables?
What makes resin such an ideal furniture material outdoors? Here are some of the top benefits:
Durability
Resin is designed to handle sun, rain, snow, and humidity year after year. The material resists cracking, peeling, mold, and mildew that can happen to wood furniture over time. Tables crafted from resin easily last 5-10 years outdoors.
Low Maintenance
Keep resin looking fresh with just an occasional wipe down using soap and water. No refinishing or repainting required! This makes resin far easier to care for than traditional wicker or wood.
Affordability
With price points from budget-friendly to high-end, resin furniture is generally less expensive than similar pieces made from teak, aluminum or natural wicker. The cost-effectiveness makes resin attainable for a range of budgets.
Weather Resistance
Resin won't fade, crack, or degrade when exposed to harsh outdoor elements including UV rays, humidity, and temperature fluctuations. It's specifically crafted to withstand Mother Nature's worst.
Customizable Style
Part of resin's appeal is the ability to customize pieces like color, size, and shape. Since many tables are handmade, you can request a specific design to match your space.
Easy Mobility
Lightweight resin tables easily move to follow the sunlight or shade. Some folding resin tables provide ultimate portability. This flexibility lets you constantly change up your layout.
With its durability, low maintenance, and design flexibility, resin offers the total patio table package. Keep these advantages in mind when choosing furniture for your backyard.
How to Select the Best Resin Tables for Your Space
Ready to pick out gorgeous backyard resin tables? Here are tips for choosing patio furniture tailored to your needs:
Measure Carefully
Always measure the footprint of your deck or patio before shopping. Furniture sizes listed often refer to the tabletop dimensions only. Factor in at least a few feet around pieces to allow for comfortable movement.
Also consider the shape of your space – rectangular tables work well for narrow decks while round is great for fitting into irregular corners.
Match Your Style
Browse the various resin table styles and choose options that complement your desired aesthetic. Are you trying to achieve a modern geometric look or a cozy farmhouse feel? Let your style guide guide your table selections.
Consider Your Climate
Think about weather conditions in your region before deciding on resin furniture finishes and colors. For hot, sunny areas, lighter resin colors will deflect heat and resist fading. In humid climates, mold-resistant HDPE wicker makes a good option. And for windy locations, heavier polyresin construction ensures your tables won't blow away in a gust.
Seek Out Quality Materials
Focus on reputable brands that use only weatherproof, high-density resin. Check out the manufacturer's guarantees and warranties too. Companies like Trex and Polywood stand behind the long-term durability of their resin products.
Set a Budget
With the wide range in resin furniture prices, setting a spending budget helps narrow down the options. Watch for sales on off-season purchases. And don't forget to factor in any shipping costs for large, heavy tables.
Envision the Full Experience
Imagine how you'll use the space when making your resin furniture selections. If you love lounging outside with a book, choose plush deep seating and side tables. For frequent family dinners, look for large dining sets. Your lifestyle should guide your table choices.
By keeping these tips in mind as you shop, you'll end up with the perfect resin tables to create your dream backyard escape!
Here are the Top 5 Resin Table Brands
Want quality patio pieces sure to stand the test of time? Then choose resin furniture from a reputable brand. We've compiled the top manufacturers producing weatherproof and stylish resin tables.
1. Polywood
Known for their classic designs and eco-friendly resin lumber, Polywood has been revolutionizing outdoor furniture since 1990. Their HDPE resin withstands all climates and is made with up to 90% recycled materials. Expect 20 year warranties and the option to buy replacement parts for DIY repairs.
2. Trex Outdoor Furniture
As the leading name in composite decking, Trex also offers gorgeous resin outdoor furniture. Made from 25% recycled wood and plastic film, Trex tables feature a smooth polished finish. Trex backs their tables with industry-leading warranties against damage.
3. Harmonia Living
For elegantly crafted wood and resin pieces, Harmonia Living incorporates sleek stainless steel, teak, and all-weather wicker. Each handmade table exhibits beautiful craftsmanship. Expect to pay more but get exceptional quality.
4. Modway
This modern furniture brand produces sleek backyard resin tables at affordable price points. Known for trendy designs and quick shipping, Modway's quality belies the low cost. Enjoy free returns for up to a year after purchase.
5. Christopher Knight Home
Rustic farmhouse, contemporary, and transitional resin wicker styles come from this brand offering outdoor pieces for less. Mix and match their coordinating table collections to achieve a pulled-together look.
When choosing a brand, read reviews and evaluate the warranty coverage. Top resin manufacturers believe in the longevity of their outdoor tables.
Caring for Your Resin Tables
The right care keeps resin furniture looking like new for ages. Here are top tips for maintaining resin patio tables:
Rinse regularly – Use a mild soap and water solution to remove dirt, pollen, and other debris that may accumulate on the table. Avoid harsh chemical cleaners.

Scrub gently – For a deeper clean, use a soft bristle brush to loosen residue in crevices. Apply minimal pressure when scrubbing to avoid scratching the resin.

Check hardware – Ensure bolts and other hardware pieces are tightened properly so tables sit level and stable. Tighten or replace loose connections as needed.

Watch for nicks – Touch up any small scratches, chips or nicks in the resin with matching outdoor paint pens. This helps avoid further damage.

Check weight limits – Don't overload the table with weight beyond the manufacturer's recommended limit. Excess weight can lead to cracks or snapping.

Rotate cushions – If your resin tables have cushions, rotate them regularly so they wear evenly. Wash cushion covers occasionally per the fabric instructions.

Use protection – Minimize direct sun exposure and keep tables covered when not in use for maximum longevity.
With the right care and maintenance, quality resin tables easily enjoy a decade or more of backyard use. Just don't forget the sunscreen and drinks to complete your outdoor oasis!
Unlock Endless Backyard Enjoyment
From intimate breakfasts to sunset dinners, resin patio tables set the stage for outdoor fun. Made to deliver years of low-maintenance performance, resin outshines traditional patio furniture. Following this guide will ensure you select durable and stylish resin pieces tailored to your unique space.
So unlock the possibilities and start designing your dream alfresco escape! The right combination of contemporary, wood-look and portable backyard resin tables creates an outdoor sanctuary right at home.
Further Reading
Backyard Resin's YouTube Channel – A channel dedicated to real wood, epoxy, DIY art, and more, including various resin table projects.
The Spruce: How to Choose the Right Outdoor Table – A comprehensive guide to choosing the right outdoor table, including resin tables, considering factors like weather, space, comfort, and budget.
COSIEST FURNITURE: How to Clean and Care for Resin Wicker Furniture – A detailed guide on cleaning and maintaining outdoor wicker patio furniture, including resin wicker furniture.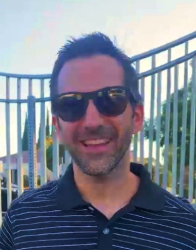 Latest posts by Paul West
(see all)