20 Backyard Glamping Ideas: Build Your Own Luxury Den Without Leaving Home
Imagine stepping outside your back door into a magical world of luxury camping. With the right glamping gear and a dash of creativity, your backyard becomes a paradise retreat. Give kids an endless summer by letting imaginations run wild in playful themed tents.
Reconnect with nature through the screen of a breezy papasan or the window of a tiny house haven. And when the day winds down, rest surrounded by twinkling lights under skies that glitter like diamonds. We've assembled the most demonstrably popular backyard glamping ideas and key factors associated with each. These should spark your wanderlust without ever leaving home.
From DIY weekend projects to rentals that transport you across the globe, these concepts turn backyards into vacation destinations.
So grab some s'mores and let your mind unwind as we inspire you to create your own whimsical escape. The adventure awaits…
1. Luxury Tents
Escape to the outdoors in serious style by pitching a spacious, fully-furnished safari tent. Outfit the interior with real beds, plush rugs, and hanging lanterns to create a relaxing oasis steps from your home.
Pitch a heavy-duty cotton canvas tent on a raised wooden platform
Furnish with real beds dressed in soft linens and cozy pillows
Layer rugs over the floor for comfort and warmth
Add portable furnishings like chairs, side tables, and storage trunks
String up twinkle lights and decorate with potted plants and flowers
Keep bugs at bay with tightly closing zippered door flaps
2. Spacious Cabins
Build a tiny guest cabin in your backyard for quaint lodging with more solid shelter. Install electricity, add windows, and furnish the interior with beds, seating, and camp-themed decor.
Construct a compact guest cabin from wood or prefab panels
Add windows and screen doors for natural light and ventilation
Install electrical wiring and outlets for lighting and devices
Include space for comfy beds, a sitting area, and storage
Outfit with rustic furnishings like twig chairs and tree stump tables
Decorate the exterior with flower boxes, strings of lights, and welcome mats
3. Camping Pods
For sturdy weather-tight shelter, install a prefabricated camping pod in your backyard. The insulated hard-shell design provides security and comfort for luxurious overnights with a connection to nature.
Order a molded plastic or fiberglass camping pod shell
Level gravel or paver stones to create a flat base
Assemble the pod pieces to create a watertight rectangular unit
Add a locking door and windows for light, ventilation, and views
Install a small electrical system for lighting, fans, and heating
Furnish the pod's compact interior with beds, seating, and storage
Decorate with cozy camp-inspired textiles and accessories
4. Yurts
Channel rustic Mongolian vibes by installing a large round yurt tent on a raised deck or wooden platform. The stout circular design withstands wind and weather while the open layout creates a cozy shelter.
Assemble the collapsible latticed walls and conical roof
Deck or platform provides a level base protected from moisture
Door flaps or windows allow adjustable airflow
Insulate the walls and roof for greater temperature regulation
Add thick carpets, pillows, and tapestries over the plywood floor
Furnish with a bed, seating, and storage in the round open space
String fairy lights and decorate with boho tribal textiles
5. Teepees
For quick and easy glamping, set up a giant canvas teepee tent by draping fabric over a tall pole frame. The recognizable cone shape creates a roomy interior for lounging and sleeping protected from elements.
Drape oversized sturdy canvas around a tall wood pole
Tie flaps or add Velcro to seal up sides as needed
Fold back door flaps to allow airflow and light
Layer rugs and blankets over the ground for soft seating
Add low-profile beds, cushions, and ottomans to avoid poles
Scatter cozy pillows, poufs, and floor cushions
Decorate with Native American-inspired blankets and artifact
6. Bedouin Tents
Backyard glamping ideas don't come any more exotic than this! Transport yourself to exotic desert locales within your own backyard using a low open-sided tent. The minimalist shelter against sun and wind takes on an Arabian Nights vibe with plush furnishings.
Drape billowing cotton canvas over a small wood frame
Keep sides open with loose ties for views and airflow
Load up the interior with colorful pillows and poufs
Cover the ground with ornate Moroccan-style rugs
Add low divans and cushions for lounging and sleeping
Drape with decorative exotic fabrics and tassels
Light up the space with hanging lanterns and candles
7. Treehouses
Relive childhood nostalgia and sleep surrounded by nature in a backyard treehouse. Build a platform in branches and outfit it with cushioned beds, lighting, and camp decor for elevated overnights.
Construct a sturdy plywood platform secured to tree limbs
Enclose sides with guard rails for safety from falling
Add a roof or upper level for more protected interior space
Furnish with cozy beds piled with pillows and linens
String fairy lights and lanterns around the interior
Decorate with camp-inspired accessories like canteens
Add mosquito netting canopy over the beds for bug-free sleep
8. Gypsy Wagons
Give your backyard a whimsical touch by upcycling a wooden wagon into a snug vardo-style retreat. Refurbish with new wheels so you can move it around for new views.
Source an old farm cart, buckboard, or covered wagon
Restore the wooden body and add new metal wheel rims
Cushion the interior with thick mattresses and bolsters
Install compact built-in storage nooks and shelving
Paint the exterior vibrant colors and stencil on ornate patterns
Drape the interior with colorful flowing fabrics for a cozy nest
Accent with burnished metal lanterns and draped tassels
9. Covered Wagons
Travel back to the Old West frontier by making your own vintage Conestoga-style wagon with a rounded canvas cover. Authentic details make for historic homespun accommodations.
Construct a long narrow wooden wagon base with slanted ends
Sew and fit a sturdy canvas cover over bowed sapling ribs
Line the interior with tucked quilts, mats, and woven blankets
Add a metal camp stove, lanterns, and other pioneers essentials
Fit built-in wooden storage boxes under bunked cots
Drape colorful patterned fabric over openings for privacy
Display antiques like washboards, kerosene lamps, and cast iron cookware
10. Tiny Houses
For long or frequent backyard stays, park a miniature mobile home like a camper, trailer, or tiny house. The compact space has modern amenities for comfy off-grid overnights.
Tow in a wheeled camper, trailer, or tiny home
Level on stabilizing jacks or blocks to prevent shifting
Hook up to electricity, water, and septic if connections available
Enjoy features like air conditioning, stoves, private bathrooms
Decoratively arrange the tight interior with multipurpose furnishings
Add touches like throw rugs, curtains, and camp-themed artwork
Create extra space with fold-down beds, lofts, and modular furniture
11. Shepherd's Huts
Roll a dainty wooden shepherd's hut onto your property for compact rustic lodging. The pint-sized design originated in the English countryside but translates well to pastoral backyard stays.
Build or buy a small wooden hut on wheels with a sleeping nook
Tow into place and prop up on stabilizer jacks or blocks
Add a tiny wood burning stove for heating and cooking
Include a fold-down table and stools for dining
Decorate the cozy interior with quilts, pillows, and gingham prints
Display faux pastoral tools like crooks and buckets with wildflowers
String twinkle lights over the corrugated metal roof for ambiance
12. Hobbit Holes
Create a magical Middle Earth abode by digging a round "hobbit hole" shelter into a backyard hillside. Line the earthy space with woven tapestries for rustic underground camping.
Dig a circular pit into a sloped yard to create an earthen room
Line the walls with waterproof drainage materials
Cover the dome roof with boards and a thick turf layer
Install a round colored door made to look like a barrel top
Add lanterns and woven wall hangings over bare earth walls
Layer patterned rugs over the dirt or stone floor
Furnish with low seats and beds piled with cozy textiles
13. Geodesic Domes
Assemble a dome tent from interlocking poles and fabric for groovy, space-age lodging. The geometric structure provides sturdy shelter while recalling '60s and '70s counterculture.
Connect and bolt together lengths of metal pipes
Stretch waterproof triangular fabric panels over the frame
Anchor the dome shape securely to the ground
Add a floor and furnish with low, round profile furniture
Outfit with retro decor like beanbag chairs and lava lamps
Drape the interior with tapestries and beaded doorways
Keep it lit with string lights and paper lanterns
14. Bell Tents
Make a stylish statement by pitching a wide conical bell tent with vertical sides and a roof center pole. The extra high ceiling provides ample space for plush furnishings.
Stake down the heavy circular canvas base
Insert the tall central pole through the roof opening
Raise the pole to stretch the fabric into a tall bell shape
Tie back the straight-sided flaps to allow airflow
Furnish with beds, cushions, and sitting areas around the pole
Decorate with bold prints, piles of pillows, and ornate rugs
Add chandeliers, shelves, and other glam accessories
15. Beach Shacks
Channel oceanside cottage vibes by building a petite wooden shack decorated with sand, shells, and driftwood. The beachy lodging feels peaceful and relaxing.
Construct a small gabled wooden cottage or shed
Paint the exterior in sunny yellows, sky blues, and white
Deck out the interior with natural elements like woven sea grass and seashell wind chimes
Add netting, seashell mobiles, and glass float lights
Incorporate reclaimed driftwood for benches, shelves, and signage
Outfit with wicker, rattan, or whitewashed furniture
Use lots of breezy linen, nautical stripes, and sun-bleached textures
16. Tropical Huts
Recreate a Polynesian paradise right outside your door by constructing a thatched tiki hut over araised bed. Bamboo accents and lush greenery complete the exotic escape.
Build a square raised platform for the bed
Construct a slanted, open-sided palm thatch roof
Surround the bed with airy net or mesh curtains
Add bamboo torches and woven grass mats on the ground
Incorporate rattan chairs, lanterns, and hammocks
Pot tropical plants like hibiscus and palms around the site
Display traditional masks, carved statues, and conch shells
17. Covered Cots
Keep outdoor snoozing simple by hanging sturdy canvas off a basic metal cot frame. This creates shelter while still allowing fresh air flow from all sides.
Start with a foldable metal cot frame
Stretch water-repellent canvas over the top
Drape additional canvas along the sides to cocoon completely
Tie flaps back during the day and lower at night
Dress the cot up with plush pillows and warm blankets
Add mosquito netting that can be tucked up when not needed
Include foldable end tables, lanterns, and camp chairs
18. Hanging Beds
Incorporate whimsical height into your camp by suspending cozy padded bed hammocks from trees or a freestanding frame. Airy netting adds drama.
String sturdy nylon, cotton, or hemp hammock beds
Nestle into the deeply cushioned mattresses
Drape airy fine mesh netting overhead
Gather netting at corners for an elegant draped effect
Add mosquito netting layered under or over the decorative outer mesh
Attach waterproof roof panels overhead in case of rain
Include dangling lanterns and plant hangers around the beds
19. Suspended Tents
Let your lodging seem to float in thin air by hanging lightweight nylon-shell tents from cables, poles, or tree branches. The hovering effect feels magical.
Tie sturdy cables between trees or frames
Attach weatherproof ripstop nylon tent bubbles with carabiners
Furnish the compact interiors with beds and folding furniture
Include mesh roof panels or doors to stargaze on clear nights
Hang lanterns and mobiles from the tent ceiling
Add a raised floor or deck to use the space underneath
Stake narrow paths from the dangling tents to the ground
20. Tipis
Channel the old American West with tall, thin cone-shaped tipis. The soaring structures create dramatic height for mystical lodging vibes.
Tie together long wooden poles at the top
Spread out the base in a large circle
Wrap buffalo hide, canvas, or cotton canvas around the frame
Secure the adjustable flaps with wooden pegs
Cover the ground in cowhides, patterned blankets, and plush pillows
Include storage trunks and woven baskets
Decorate the interior with Native American artifacts and souvenirs
Backyard Glamping Ideas: Key Do's and Don'ts
Do's
Choose durable, waterproof materials like canvas, ripstop nylon, and weather-sealed wooden structures. Flimsy, porous fabrics won't stand up well to the elements.
Prepare a flat, level surface as your base by clearing debris, grading, and laying pavers, gravel, or patio blocks. This prevents tipping and moisture collection.
Stake tents securely using heavy-duty anchors and tight, reinforced guy lines. Wind is the biggest threat to temporary structures.
Seal seams and openings thoroughly with high-quality caulk and sealant to prevent leaks. Leave windows and doors zippered or closed while unattended.
Insulate as needed using rug pads beneath and foam panels within tents. Space heaters and warm bedding also prevent chill.
Add separate mosquito netting inside tents or around beds for breathable, bug-free comfort. Netting keeps out pests without condensation buildup.
Use battery-powered lighting like string lights and lanterns to illuminate tents and pathways. Candles pose fire risks.
Follow electrical safety codes by hiring an electrician to handle wiring. Use GFCI outlets and outdoor-rated cords and fixtures.
Provide shade with easy-up canopies over seating areas. Excess sun exposure ruins the relaxing vibe.
Have a backup plan like a garage, screened patio, or reserve rental for unpredictable weather. Glamping works best as a fair weather activity.
Don'ts
Don't overload extension cords which can overheat. Run heavy-duty exterior cords directly from indoor outlets.
Avoid loose rugs and fabrics that can blow around in wind and storms. Use heavy weighted pieces secured to the ground.
Don't neglect site drainage by clearing pathways and diverting rain and runoff away from tents. Standing water damages structures.
Don't use harsh detergents or scrubbing on delicate waterproofing or coatings which can degrade from chemicals. Rinse gently instead.
Don't install permanent structures like plumbing and electricity without permitting and licensed help. These add major liabilities.
Avoid grilling, fire pits, and candles in immediate tent proximity. Create separate spaces for open flames to prevent dangerous sparks and embers.
Don't underestimate weather by monitoring forecasts closely and having a plan for high winds, lightning, rain, or extreme temperatures.
Don't forget site cleanup by removing trash promptly and cleaning up debris that could clog drains. Remove all non-permanent structures if not in use.
Don't use cheap or weak hardware that can bend, warp, crack, or snap under pressure. Invest in high-quality anchors, ropes, poles, and stakes.
Don't ignore permits and codes for larger buildings and electrical work. Work with your township to stay compliant.
Further Reading
10 Budget-Friendly Tips for Backyard Glamping
7 Glamping Ideas for Your Backyard Slumber Party
Backyard Glamping: How to Plan the Ultimate Luxury Camping Experience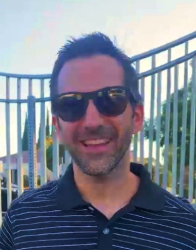 Latest posts by Paul West
(see all)