Backyard Halloween Games Galore: Creative Fun for All Ages
Halloween doesn't have to end when you get too old for trick-or-treating. Hosting a Halloween party in your own backyard can be just as fun and rewarding. With a little creativity, you can transform your backyard into a playfully spooky scene filled with games, decorations, music, and more.
Planning a backyard Halloween party complete with fun games is easier than you think. Follow this guide to get inspired, learn some playful backyard Halloween games and pull off a bash your guests will talk about all year long!
Key Takeaways
Pick an exciting Halloween theme like Haunted Carnival or Monster Mash to drive your party plans.
Vary backyard games based on your guest mix of kids, adults and families. Include active, silly games.
Decorate your yard with cobwebs, tombstones, jack-o-lanterns, and string lights to set the ambiance.
Offer fun prizes like Halloween trophies, candy, baked goods, and gift cards to motivate game participation.
Greet guests with creepy music, fog machines, and flickering candles for added Halloween atmosphere.
Get Inspired for Your Backyard Halloween Party
Before you start planning, get in the spirit by looking at photos of other people's backyard Halloween parties online or in magazines. Take note of any games, decor, costumes, or food you find clever or inspiring.
Think about the size of your yard and how many people you plan to invite. Curate your plans accordingly. An intimate gathering of 6 to 8 people will feel different than a blow out bash for 40 guests. Scale food, activities, and decor appropriately.
Consider a fun Halloween theme to tie everything together. Some popular options include:
Haunted Carnival with creepy clowns and concession stand food
Gothic Graveyard with tons of tombstones and a zombie dance party
Monster Mash with each guest dressing as a different monster or ghoul
1980s Halloween Throwback with 80s costumes, music, and nostalgic treats
Get creative and choose a theme that excites you! This will help narrow down your focus when planning.
Spooktacular Backyard Halloween Games for All Ages
The centerpiece of your party should be fun Halloween games and activities that get your guests laughing, screaming, and bonding. Tailor your selections to the size and mix of your crowd.
Thrilling Games for Kids
Little ones will have a ghoulishly great time with these lively backyard games:
Pumpkin Bowling: Set up bowling pins or plastic bottles. Use mini pumpkins, gourds, or even orange spray painted wiffle balls as bowling balls. Award candy or Halloween trophies to the best bowlers.
Halloween Ring Toss: Toss rings onto bats, brooms, cauldrons, or ghosts. Vary distances for age groups. Give spider rings or coffin erasers as prizes.
Mummy Wrap Race: See which team can wrap up their mummy (a teammate) the fastest using toilet paper. The sillier the better!
Candy Corn Relay Race: Teams race to pass a bowl of candy corn down a line with spoons. No hands allowed! The team with the most corn in their bowl at the end wins.
Chilling Games for Adults
Amp up classic lawn games by adding a dark twist:
Pumpkin Cornhole: Paint cornhole boards black and orange. Use mini pumpkins as bean bags. Award pumpkin carving kits as prizes.
Halloween Limbo: Limbo to spooky music with a broomstick decorated with spiders and bats. See who can go the lowest!
Skeleton Bowling: Use skull or skeleton pins and roll skull-decorated balls. Give trophy cups or candy as prizes.
Vampire Ring Toss: Toss rings onto vampire teeth set at varying heights on poles.
Spooktacular Games for Families
Get the whole gang involved in these lively games:
Halloween Scavenger Hunt: Hide Halloween-themed items in the yard and make lists for teams to locate them. Give prizes to the winning team.
Halloween Trivia: Quiz guests on their Halloween movie, history, and music knowledge. Award candy or trophies to leaders.
Halloween Charades: Take turns acting out Halloween words and film titles for others to guess.
Halloween Limbo Contest: See who can limbo to spooky music with the lowest, creepiest limbo form.
Costume Contest: Have everyone vote for the best Halloween costume in categories like scariest, funniest, and most creative.
Party Activity Games
Between main activities, keep everyone mingling with quick games:
Halloween Bingo: Play bingo with cards filled with Halloween words and have prizes for winners.
Halloween Volleyball: Decorate a volleyball with Halloween markers and play a lively game.
Halloween Cupcake Walk: Play music and have players walk around cups of candy. When the music stops, hand out cupcakes displayed in the center.
Set Up a Fun Halloween Game Zone
To keep the fun going all night, set up an area of your yard with multiple Halloween games guests can play:
Pumpkin Mini Bowling
Halloween Ring Toss
Halloween Tic Tac Toe with pumpkins and ghosts
Halloween Bean Bag Toss at spider web targets
Giant Halloween Connect 4 with black and orange checkers
Halloween Cornhole Toss
Scatter straw bales, cobwebs, and candles around to create a spooky game zone atmosphere.
Delightfully Dreadful Backyard Bash Decor
Transport guests to a Halloween wonderland by decorating your backyard for the occasion. Look for affordable party decor at dollar stores, discount retailers, thrift shops, and online.
Here are some easy DIY decorating ideas:
Carve pumpkins with spooky faces and arrange them around the yard and on tables with candles inside.
Hang string lights from trees and buildings for ambiance. Use purple, orange, and green bulbs for color.
Create a cobweb covered graveyard scene with cardboard tombstones and zombie hands reaching up from the dirt.
Scatter plastic bats, spiders, jack-o-lanterns, cauldrons, and brooms around the yard. Drape spider webs over tables and chairs.
Make a Halloween themed photo booth wall with props like witches hats, masks, and inflatable brooms.
Greet guests with ominous music, fog machines, and flickering candles for added creepy atmosphere.
Having great ambiance will make your party snap-worthy and extra memorable for guests.
Gruesomely Great Prizes & Incentives
Keep your Halloween games lively and competitive by offering fun prizes:
Award trophy cups, medals, ribbons, or certificates to game winners.
Give out Halloween do-dads like spider rings, vampire teeth, bouncy eyeballs, skeleton erasers, and bat keychains.
Hand out candy favorites like lollipops, licorice, chocolate eyeballs, and more.
Raffle off gift cards, movie tickets, baking kits, and other practical prizes.
For adult parties, give wine, beer, coffees, and other consumable prizes.
Offering even simple prizes creates excitement and extra participation for your games.
Wrapping It All Up
Hosting a spirited Halloween party in your own backyard is an easy way to have holiday fun on a budget. With creepy games, festive decor, prizes for winners, and Halloween music and food, you're sure to throw a bash to remember.
Follow the tips in this guide to pick activities suited for your guests, deck out your yard, and get those fun and games going strong all night long. Your friends and family will leave raving about your Halloween party until next year!
Frequently Asked Questions: Backyard Halloween Games
What are some good Halloween games for teens?
For teens and tweens, fun backyard Halloween games include pumpkin cornhole, Halloween limbo contests, skeleton bowling, zombie tag, Halloween-themed scavenger hunts, Halloween movie trivia games, and group costume contests. Just add spooky twists to classic party games.
How much space do I need for Halloween party games?
Many Halloween games like limbo, tug of war, and relay races only need narrow strips of yard. Others like cornhole, ring toss, and bowling can work in 10 x 10 ft spaces. For more room, move tables and chairs to maximize play space.
What food and drinks work well for a backyard bash?
Outdoor-friendly Halloween fare like hot apple cider, chili, baked potatoes, candy apples, and pumpkin-themed treats are perfect. Have a smores bar or fondue pot for fun. Use cauldrons, skull cups, or coffin crates to serve snacks.
What type of prizes should I give out for games?
Candy, baked goods, small toys like bouncy eyeballs, costume jewelry, gift cards, and fun trophies are great prize options. Stay on theme with Halloween items under $3-$5 like spider rings and vampire teeth.
How early should I decorate for an outdoor party?
1-2 days before allows time to clean up. Carve pumpkins early but candle them day-of so they look fresh. Setup games, string lights, and fragile props right before guests arrive.
Further Reading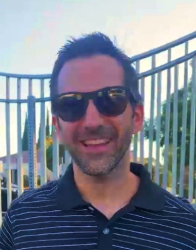 Latest posts by Paul West
(see all)