Host a Dream Backyard Pool Wedding with This Complete Guide
A backyard pool wedding combines the intimate feel of an at-home celebration with the fun and relaxation of a poolside venue. The tranquil, natural setting allows you to craft a gorgeous yet laidback event that's personalized from start to finish. However, organizing a pool wedding does require some special considerations.
This comprehensive guide will walk you through all the steps and details, from early planning to decor ideas to potential challenges. With these tips, you can confidently pull off a memorable and magical affair in your own backyard oasis.
Step-by-Step Guide to Planning a Backyard Pool Wedding
Planning a wedding comes with many checklists to keep things on track. But a backyard pool wedding requires some additional organization. Follow this timeline to ensure you don't miss any important steps when preparing your celebration.
12+ Months Before the Wedding
First things first, set your date and secure your venue. For a pool wedding, you'll want to:
Pick a date during warmer months when you can expect good weather. Late spring through early fall is ideal.
Make sure your yard and pool area can accommodate your guest list.
Check local regulations for noise ordinances, permits, etc. that may apply for hosting an at-home event.
Once your date and venue are booked, it's time to find pros to bring your vision to life:
Hire a wedding planner experienced with backyard events.
Book photographers and videographers who can capture the setting.
Line up a caterer comfortable with outdoor service near a pool.
Reserve rental equipment like tents, chairs, tables, and lighting.
9-11 Months Before
With vendors booked, now you can focus on fun details like:
Shop for your dream backyard wedding outfit.
Select your color palette and theme elements.
Decide on your decor approach: Luxe? Whimsical? Modern? Rustic?
Plan entertainment and music. Live band? DJ? Playlist?
6-8 Months Before
Work on major items at this stage:
Order your wedding cake. Consider a creative poolside design!
Arrange rental deliveries and setup based on equipment needs.
Send out save-the-date cards with your wedding website info.
Book hotel room blocks for out-of-town guests.
3-5 Months Before
It's all about the fine touches now:
Choose flowers based on seasonality and your colors.
Select decor for the ceremony and reception spaces.
Plan menu and drinks with your caterer.
Order printed invitations and mail them out.
1-2 Months Before
Attend to last-minute logistics:
Confirm arrival times for vendors like florists. Create a detailed schedule.
Assign seating charts and write escort cards.
Get marriage license and finalize other legal paperwork.
Provide final headcount and details to caterer.
Print programs, signs, welcome bag items, etc.
Week Before the Wedding
Set up major decor elements like string lights.
Clean the pool and test any floating decor you're using.
Review the day's timeline with your planner and vendors.
Assign someone to oversee vendor coordination on the big day.
Delegate small setup tasks to family and wedding party.
Send a timeline to guests so they know when to arrive.
Day Before the Wedding
Do a final clean of the yard and pool area.
Set out welcome bags or baskets for out-of-town guests at the hotel.
Arrange reception decor like centerpieces; add final touches.
Organize send-off items if you're doing a sparkler exit, bubbles, etc.
Try to relax and get plenty of beauty sleep!
Transforming Your Backyard into a Pool Wedding Venue
Turning your own yard and pool into a wedding venue takes some special preparation. Follow these tips to get the space ready for your big day.
Make Sure Your Pool is Wedding-Ready
Drain and thoroughly clean the pool 1-2 weeks before the wedding.
Test water pH and chemicals again 24 hours prior.
Install floating candles, flowers, or other decor a day or two before to allow time for adjustments.
Place a pool cover over sections you don't want guests swimming in.
Provide waterproof cameras or disposable water cameras for fun pool shots.
decorate the Yard to Complement Your Theme
Use lighting like bistro lights and lanterns to create a magical atmosphere.
Incorporate floral arrangements, greenery, and other decor throughout the yard.
Add personal touches that show off your style. Display meaningful photos or serve signature cocktails.
Designate separate spaces for the ceremony, reception, dance floor, bar, lounge areas, and more.
Set Up Seating, Service Areas & More
Rent chairs, tables, tents, dishes, glassware, and linens based on your headcount.
Place ceremony chairs poolside and arrange reception seating under tents or string lights.
Set up buffet stations for food/drink service. Keep electrical access in mind.
Provide appropriate flooring if grass could be muddy.
Offer bug spray, sunscreen, pool towels, and flip flops for guests.
Creative Ideas for Pool Wedding Decor
When used creatively, your pool itself becomes a gorgeous focal feature for decor. Play up the aquatic ambiance with these ideas.
Make a Statement with Pool Floats
Float oversized floral arrangements in rafts, tubes, or bowls.
Use an inflatable swan or flamingo for a playful vibe.
Let guests drift on gold flamingo pool floats sipping cocktails during the reception.
Light Up the Pool
Place floating candles on lily pads or small rafts.
Use waterproof lights to illuminate the pool from within.
Suspend twinkle lights over the water.
Incorporate Pool Toys & Accessories
Display pool noodles in your wedding colors.
Use old-fashioned diving rings and balls for eclectic appeal.
Scatter beach balls for a summery vibe.
Style the Pool Deck
Surround the pool with potted palms or tropical flowers.
Use nautical elements like anchors and rope for a shipwreck theme.
Incorporate beachy details like seashells, starfish, or coral.
Expert Tips for a Seamlessly Organized Pool Wedding
Pulling everything together for a pool wedding takes care and forethought. Lean on these pro tips to keep things running smoothly.
Hire a day-of coordinator – they'll handle any poolside issues or emergencies so you can relax and have fun.
Have a backup plan – arrange tents or reserve an indoor space in case of bad weather.
Use waterproof details – like printable escort cards, fabric markers for labeling, and protected décor items.
Provide towels and waterproof bags – so guests can easily dry off and protect phones and valuables.
Keep decor minimalist in the water – elaborate flowers and candles are tricky to arrange in a pool.
Set Up a shuttle – to safely transport guests between hotel and your home if needed.
Check local guidelines – for noise rules, permits, amount of signage allowed, and other regulations.
Have a lifeguard on duty – ensure your pool stays safe throughout the event.
FAQ: Backyard Pool Wedding Organization
Planning your dream poolside bash comes with plenty of questions. Here are some common FAQs along with helpful answers.
What if it rains on my wedding day?
Having a backup rain plan is a must! Designate a section of covered patio or garage as your contingency ceremony site. Rent tents to keep the reception, dance floor, and seating areas dry if needed.
How can we use the pool at night?
Outdoor lighting is key for night swimming. String lights overhead, use pool lights, float candles on lily pads, and place lanterns poolside to illuminate the area once the sun goes down.
Is it okay for guests to swim during the reception?
You can let guests mingle poolside and take a dip if you want. Just be sure your decorations leave part of the pool open for swimming. Provide pool towels and have someone monitoring pool safety.
What's the best way to handle bugs at a backyard pool wedding?
CITRONELLA CANDLES
Bug spray
Area foggers
How do we deal with poolside spills and messes?
Assign someone to periodically walk around the pool and check for spills, trash, fallen decor, etc. Provide small garbage bins poolside. For liquid spills, keep towels on hand for quick cleanup.
What about restrooms? Do we need to rent portable potties?
For backyard weddings under 50 guests, indoor bathrooms are usually sufficient if they're accessible from the pool area. For larger groups, consider 1-2 portable restrooms placed discreetly on the property.
Is it safe to have electric devices like speakers, lights, or mics near the pool?
Consult your vendors to use sound and lighting gear designed for poolside use. Ensure cords and wires are properly secured and nowhere near the water. Appoint someone to oversee and monitor all electrical items.
The Perfect Way to Say "I Do"
A backyard pool provides natural beauty and intrigue for an unforgettable, ultra-personal wedding experience. With smart planning and decor, you can throw a stunning soiree and enjoy the convenience of an at-home venue. Having a place to kick back in the pool after the formalities finishes off the day on a quintessential summer vibe.
Just be sure to keep safety top of mind and have backup plans ready for potential weather changes. Follow this guide to seamlessly execute the backyard bash of your dreams!
Supplemental Resources
30 Fun Ideas for a Poolside Wedding – Martha Stewart

This link provides 30 unique and fun ideas for a poolside wedding. It offers inspiration for various aspects of the wedding, including first dances, dinner, and lounging around the pool. The page is filled with real-life examples and photographs to illustrate each idea, providing readers with visual inspiration.

36 Inspiring And Fresh Poolside Wedding Ideas – Weddingomania

Weddingomania's page offers fresh and inspiring ideas for poolside weddings, focusing on chic and elegant ways to incorporate the pool as a main decor feature. It provides suggestions for decorating the pool with floats, balloons, flowers, and more, each accompanied by images for reference.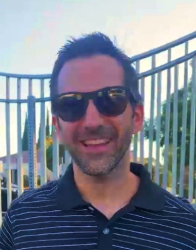 Latest posts by Paul West
(see all)